Berkeley Summer Abroad programs are open to all University of California students, visiting students from other colleges and universities, international students, and adults.
Live, study, and travel with other program students and study special topics, languages, and cultures.
Courses can satisfy Breadth Requirements and/or Major/Minor Requirements. See individual program pages for more details.
 Earn Berkeley credit (or UC credit for visiting students) while diving deep into a topic with an international focus.
Financial aid applies. Financial aid travels with you for all summer abroad programs! Visit each programʻs cost tab for more information.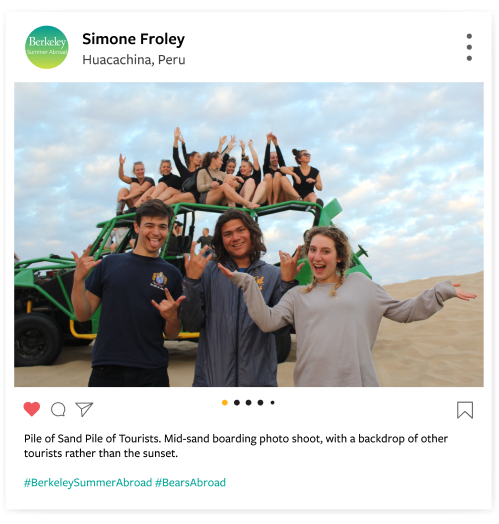 Past Programs
Below is a list of in-person Summer Abroad programs that have run in the past and are likely to return in future summers. Please note that if these programs run again, the dates and fees are subject to change.
Programs In Development
Puebla, Mexico: Entre dos Mundos/Between Two Worlds: Nauatl and Spanish languages, Cultures and Histories
Madrid, Spain: Spanish Language & Culture
Berlin, Germany: The Psychology of Identity, Love, and Relationships
Studying abroad was an experience I thought I would never have but I always wanted to do. After attending workshops, info sessions, and peer advising, I learned that it was something possible for me. Immersing myself in different cultures has always been important to me to understand that all communities are different although there may be some similarities to each other. - Bianca Martinez
Learn more about Berkeley
Summer Abroad