We have winners! 
The 2018 Berkeley Study Abroad Photo and Video Contests have come to a close and the winners have been notified. You can see all of the submitted photos on our Flickr page and the top 5 videos have been posted to our YouTube page. 
Picking the favorites in each category was a daunting task. We received 229 photo entries and 11 video submissions. The winning photos and videos summed up everything we love about studying abroad- learning, cultural appreciation, and adventure.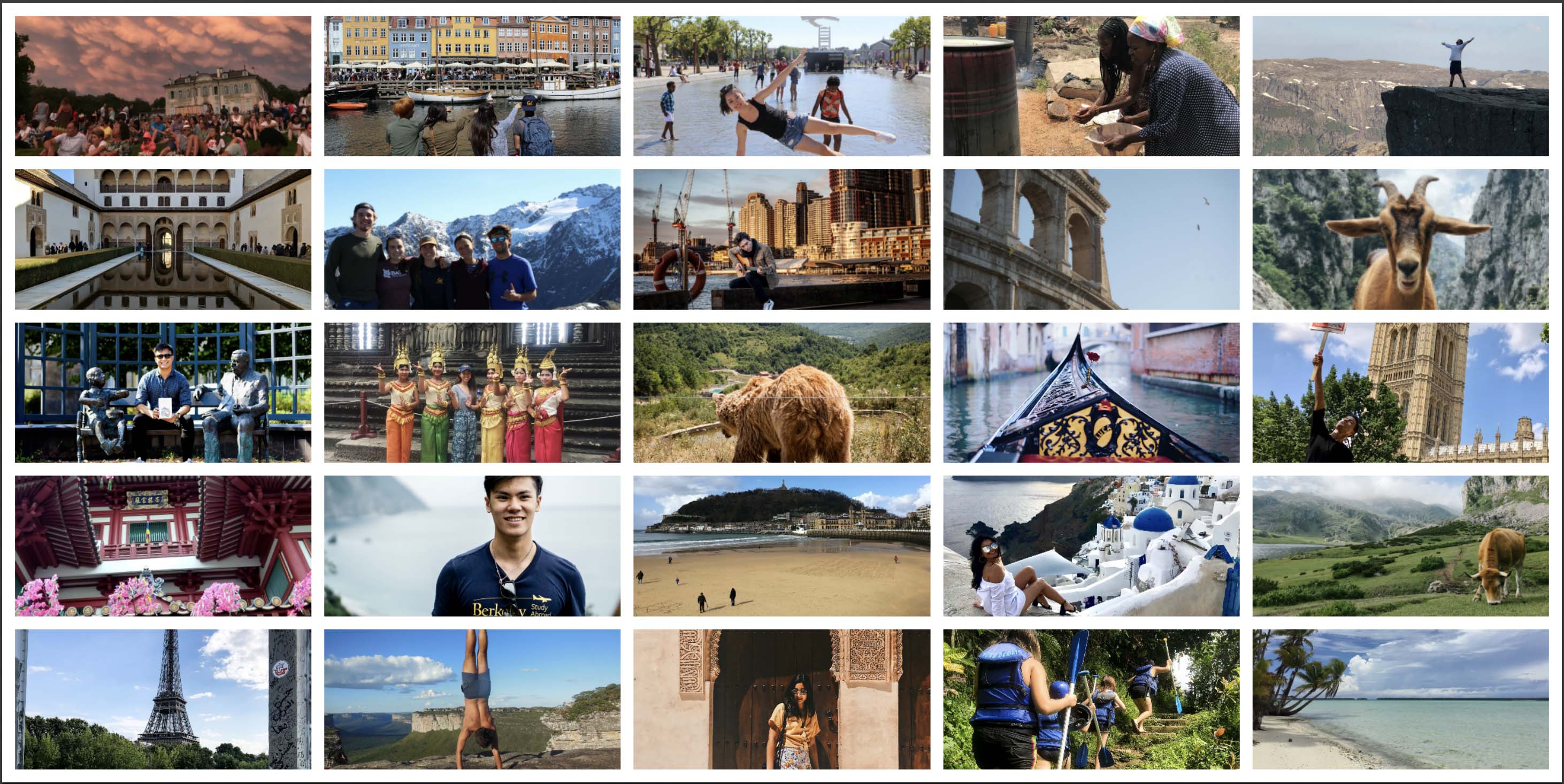 Here are the winners in each category:
Video
1st Place: Stephanie Sun for "UCEAP- Summer Abroad- ECSP""
2nd Place: Alec Mesropian for "Team Gezellig: NL and BE"
3rd Place: Anya Fang for "UCB Global Internship in Singapore"
Places
1st Place: Amber Chau for "Pastel Waters"
2nd Place: Sean McHugh for "Scala"
3rd Place: Amelia Sadler for "Picos de Europa"
Honorable mention: "Trail Friends" by Kira Barsten
Bears Abroad
1st Place: Rohan Narendra for "Under the Spanish Sun"
2nd Place: Erica Cho for "Colors in Copenhagen"
3rd Place: Jacob Carrillo for "Sitting on the Dock of the Harbor"
Honorable mentions: "Peaking" by Kira Barsten
People & Culture
1st Place: Jacob Carrillo for "Walking Over the View"
2nd Place: Andre Luu for "Irishman"
3rd Place: Anashe Barton for "Ginjinha"
Honorable mentions: "Arpoador" by Matias Moreno
Wildcard
1st Place: Amelia Sadler for "New Friends"
2nd Place: Heather Feibleman for "Tree Frog"
3rd Place: Ani Matevosian for "Campervan"
Honorable mentions: "Kangaroo" by Heather Feibleman
The judges determined the winning photos based on composition, clarity and technical quality, relevance to the photo category, and popular vote, which included Berkeley Study Abroad Facebook and Instagram votes. 
Thank you to everyone who submitted to our contests. We'll be posting selections from the entries over the next year on our Instagram and Facebook pages.